Did you know that I am haircut superstitious? I will only get my hair cut at the end of one phase/ the beginning of a new phase. So for example: Finishing a semester of uni, leaving for or returning from a holiday, getting a new job, or making some kind of life change. Recently I accidentally skipped a hair cut before the beginning of a new phase and now I am stuck in the middle of a new phase with hair that is out of control!! Why can't I simply just get a hair cut? I think that if I get a hair cut now - it wont look right. Or I will be thrown off track! I think that it is bad luck to get a hair cut in the middle of a phase and very bad luck to get a hair cut during a period of bad luck - you should always wait until something good and new happens before getting a hair cut.
(Above: wearing my favourite Sunday Social
dress)
This sounds crazy.
It is.
Maybe I was scarred from 'The Lion, Witch and the Wardrobe' as a child, when all of Aslan's power was taken away from him when the monkeys cut his mane.
I'm not used to having hair this long - it gets tangled around my face and neck when I sleep, caught in zippers or in doors, stuck under my armpit, tangled in necklaces and earrings and gives me a headache when it's up in a bun.
But I feel like a princess or a mermaid with long hair and it's not the right time to cut it just yet.
Here is a little superstitious ditty that I found about cutting your hair:
Cut it on Monday to attain health.
Cut it on Tuesday to gain wealth.
Cut it on Wednesday to hear the news.
Cut it on Thursday to get a new pair of shoes.
Cut it on Friday and there will be sorrow.
Cut it on Saturday and you will see your true love tomorrow.
Cut your hair on Sunday and the devil will be with you all week. (Umm... what!? Ok I'm not that crazy!)
Recently I was extremely excited to win a
Dawn Tan
print!!! I am such a big fan of her work - such a talented and inspirational lady! I had followed this piece right throughout the process - knowing that I would love it! Now I am a proud owner of my very own Seafoody painting and I've been dying to share it!! I'm yet to get a frame, but it will definitely be going somewhere in my studio so I can look at it while I work. I also loved the fish & chips postcard that came with it (very fitting) which is now up on my wall. You can find her
Seafoody print available here
.
Dawn also has some gorgeous ice cream pillow cases that I am eyeing off at the moment...
Icecream Pillow Cases available in Dawn Tan's shop.
Don't forget to visit the
Hand Made Love blog
for lots more Dawn Tan goodness!
This weekend I visited:
An exhibition opening at the
Ryan Renshaw gallery
. I hadn't been there before, but it's a great little gallery space - I highly recommend popping in. I think exhibition openings are underrated in Brisbane, there is much to be enjoyed from a glass of wine whilst pondering the local art scene. I also went to the
Portrait of Spain opening night last weekend at QAG
to take photos for
The Weekend Edition
and it was spectacular!
And yesterday I went to
Junk Bar in Ashgrove
for the first time, which was a nice treat - it would be a great local if I wasn't living on the other side of town!!

Today I am doing a few tests on some OHP sheets - nothing special here yet, but I've at least got a better idea of the sort of paint to use and a nice soft brush helps too! Do you have any tips for painting on glass or OHP sheets?
I love this window front painting by
Lucas Grogan
! I had this in the back of my mind when I was playing with different techniques - but not quite haha)
And here is an illustration I did recently for a flyer for
Creative Play Central
-
Imagination Creations Classes
. The classes are designed to prompt children to think outside the box and use their imaginations to create in new and original ways.
Finally, I am lusting after these tea dresses for spring/summer! I remember
Naughty Shorts
being featured in
Frankie Magazine
quite a long time ago for her gorgeous,
custom-made tea dresses
! I was browsing through the
fabric library
choosing my favourite fabrics for my to-be custom dress (as summer is on the way) and I noticed that she does custom
brides maid dresses
- how pretty would that look!? Then everyone could pick their own dress/ material and hopefully want to wear it again!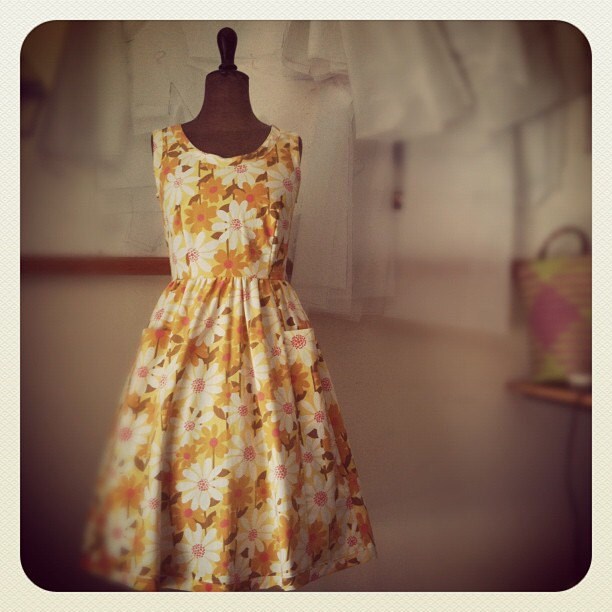 So much want for summer and to wear a beautiful tea dress!
By the way - I recently updated my illustration portfolio for 2012:
http://emilynelsonillustrator.blogspot.com.au/
You can view all of my work here while my website is in the process of being updated!